When you can't sleep because you're worried about bed bug bites
If you're worried about bed bugs there's a good chance you have a reason to think these biting pests have infested your home. Perhaps it's because you just got back from a vacation and are finding bites on your skin or maybe you've recently said goodbye to houseguests that traveled by plane. Whatever the reason, if you're concerned that your home is playing host to these annoying bugs, we're here to help you look for clues.
What bed bugs look like
What bed bugs look like really depends on their current life stage. Please refer to the image below to see what these bugs look like at each life cycle or visit our bed bug identification page for more information.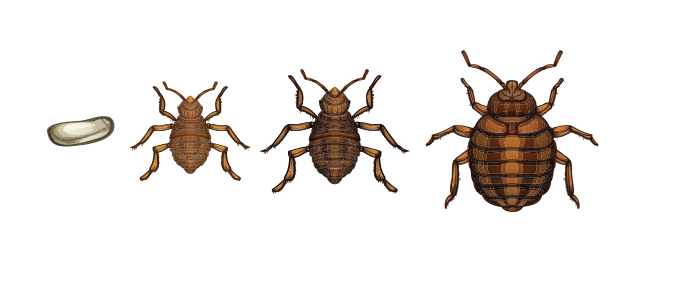 Signs you have a bed bug problem in your Colorado home
Here's the thing about bed bugs, they're primarily nocturnal so finding them in your home, at least during the early stages of an infestation, can be like finding a needle in a haystack. Unless of course, you know what to look for and where to look. Here are a few of the more common signs of bed bugs:
Live, adult bed bugs
Bed bug bites on exposed skin either in a line or in a cluster
Bed bug droppings (AKA fecal matter, feces, poop, etc.) that look like black ink stains
Blood stains on your pillowcases, sheets, and other bedding that are reddish-brown in color and may appear smeared
Bed bug eggs that resemble grains of rice or translucent to milky white dots
Shed bed bug skins left behind on beds and other areas they infest
Common places to find bed bugs
When it comes to bed bugs, you should never feel ashamed if you find these bugs in your home. Bed bug infestations can occur in any socio-economic group and are not influenced by the level of cleanliness. If your home has people and there's a way into it, you could easily develop a bed bug problem.
Bed bugs are often picked up on public transportation, at hotels and other commercial lodgings, college dorms, and even retail environments. Simply put, it's not uncommon to find bed bugs anywhere people congregate.
Where bed bugs hide
Homeowners who suspect they have bed bugs present should look in the following areas:
On and around mattresses & box springs
On headboards & bedframes
Inside nightstands & other bedroom furniture
In the seams and fabric of couches & upholstered furniture
Behind art, picture frames, & wall hangings
Under rugs
Between floorboards
Inside electronics
Along the perimeter of rooms and even areas where wall meets the ceiling
In outlets and switches
While the bed is the most common place to find bed bugs hiding during the day, they may hide within six feet of their feeding area – that is where they can get their next blood meal.
If bed bugs are mainly nighttime pests, why am I seeing them during the day?
Although bed bugs are most active after dark and into the early morning hours, there are times property owners may observe them when the sun is shining. Typically, you only see bed bugs during the day if the infestation is quite significant or if they've not had a blood meal for quite some time.
What not to do if you find bed bugs in your home
First, DO NOT light your bed or any piece of furniture on fire.
Second, DO NOT put your bed out on the sidewalk with a free sign
Third, DO NOT attempt to get rid of bed bugs by making a quick trip to the store for all the DIY supplies
Fourth, DO NOT

ignore the problem because it will not go away unless
How to effectively get rid of bed bugs
For relief from bed bugs in Denver, Boulder, Colorado Springs, and Loveland or elsewhere in NoCo, the best solution is to reach out to EnviroPest for help. Since 1965, our Colorado pest control company has been exterminating insects and rodents and have the tools, equipment, and know-how to eliminate bed bugs from eggs all the way to adult bed bugs.
When you contact us for help getting rid of bed bugs, here's what you can expect:
A thorough bed bug inspection
Explanation of findings, recommended bed bug treatment, if necessary, and what preparation is required
Non-toxic bed bug heat treatment that is completed in a single day (usually 4-6 hours depending on the size and scope of the infestation)
For qualifying properties, EnviroPest also offers a bed bug removal warranty. Be sure to ask us for details when you contact us.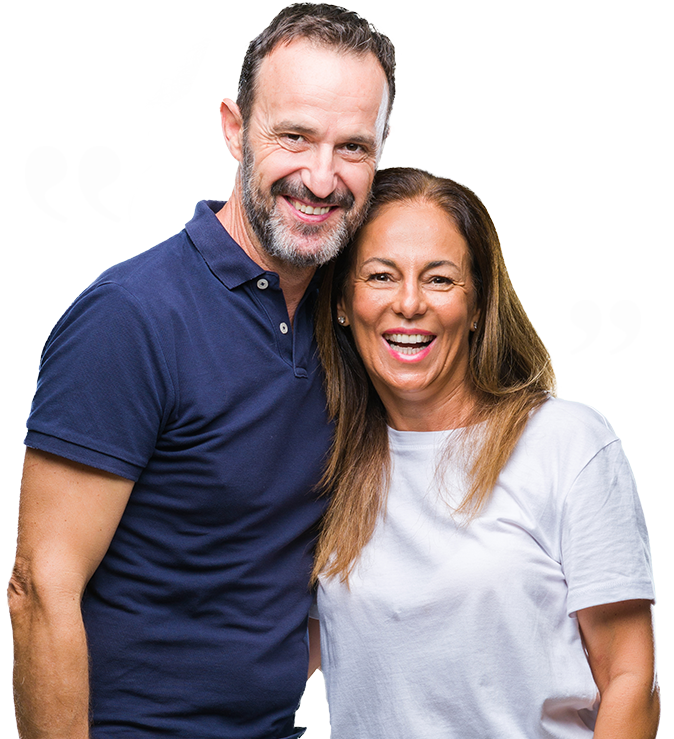 Testimonials
"Professional, knowledgeable, efficient, and respectful. Pleased to recommend Enviropest to friends and colleagues."
Elizabeth B.
Fort Collins, CO
EnviroPest received an average rating of

4.6 out of 5

stars from

2439

reviews.
4.6
Read All Reviews
GETTING STARTED IS AS EASY AS 1-2-3
REQUEST QUOTE & SCHEDULE
EnviroPest Blog & News
Read the latest articles & news