Summer Is Too Short To Stay Inside.
Like you, we hate not being able to enjoy the beautiful summer days and nights we have here in Colorado because of mosquitoes and ticks. Not anymore! Our summer mosquito and tick control program is extremely effective in reducing populations of these biting pests and very affordable.
Protect your family and enjoy your backyard this summer.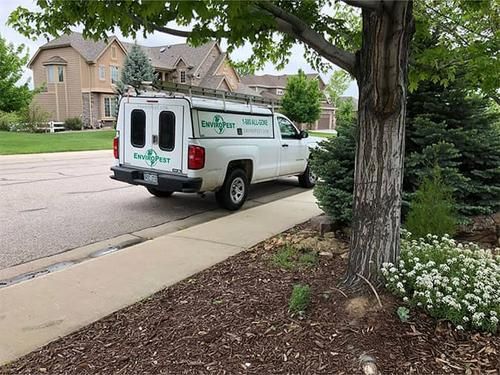 Our service is very effective and drastically reduces the mosquito and tick activity for up to 30 days. We typically treat each month from May through September.
We manage these populations by applying treatments to typical adult resting areas, such as tall grass, shaded areas, and shrubs and bushes adjacent to structures.
In areas of standing water that cannot be eliminated, such as pools and ponds, larvicide treatments minimize reproduction.
Contact us today and start enjoying your outdoor space again!
YOUR COMPLETE SATISFACTION
GUARANTEED.
EnviroPest guarantees your complete satisfaction. If for any reason you are not 100% satisfied with your mosquito and tick extermination service, we will correct it free of charge. That's EnviroPest's promise to keep your home or business pest free.
Mosquito Control FAQs
Do mosquitoes and ticks spread disease?
Yes, both mosquitoes and ticks in Colorado are capable of spreading disease. Mosquito-borne illness in the Rocky Mountain state include West Nile virus, western equine encephalitis, and Saint Louis encephalitis. They're also capable of transmitted heartworm to dogs. Diseases associated with ticks in Colorado include Rocky Mountain spotted fever, Colorado tick fever, and tularemia. Thankfully, there have not been any confirmed cases of Lyme disease originating in our state.
How often do you need to spray for mosquitoes and ticks?

It is impossible to completely stop mosquitoes and ticks from crossing your property lines. That's why we treat every month May through September.
Does EnviroPest offer a one-time treatment for outdoor weddings, family reunions, corporate events, and other outdoor events?

We do! If you're planning an outdoor event and don't want mosquitoes and ticks to threaten the health of your guests, please contact us today.
Testimonials
"Always very professional and informative during each interaction. Also, the mice have not come back and we are pest-free."
Kristine B.
Longmont, CO
EnviroPest received an average rating of

4.6 out of 5

stars from

2439

reviews.
4.6
Read All Reviews
GETTING STARTED IS AS EASY AS 1-2-3
REQUEST QUOTE & SCHEDULE
Pest Solutions For Homes & Businesses
We understand that pest problems can be unsettling and frustrating, but the solution shouldn't be. For over 55 years, we've been helping folks right here in Colorado take care of ants, spiders, mice, mosquitoes, wasps, bed bugs, bats and most other creepy crawly things. We'll get there fast to solve the issue quickly and affordably - Guaranteed.
EnviroPest Blog & News
Read the latest articles & news