For Local Pest Control In Centennial, Contact EnviroPest
For pest control services in Centennial, Colorado that stop insects and rodents from infesting, contact EnviroPest today. A local Colorado pest control company, we've been solving pest problems since 1965 and are ready to help home and business owners in Centennial get rid of ants, spiders, mice, and other nuisance and potentially harmful insects and rodents.
Active Pests In Centennial, CO
Home Pest Control In Centennial, CO
When you reach out to EnviroPest for relief from bugs and other pests that have invaded your home, you can rest easy knowing you have Colorado's best pest control team on the job! Not only do we understand the risks pest infestations pose to your health and property, but we also know how to eliminate existing pest activity and prevent new infestations from occurring. Our affordable home pest control plans in Centennial include year-round protection from 30+ pests and free emergency services. Not sure what you need? That's okay, simply give us a call to discuss or fill out our form.
Colorado's Choice SMART Service
What's included:
Year-Round Pest Protection
4 Seasonal Services
Covers 30+ Pests
Free Re-Treat Service
Rodent Control
24/7 Digital Rodent Monitoring
**initial fees may apply
Centennial, CO Pest Control That Exterminates Carpenter Ants
Carpenter ants in Centennial have an important job – they help break down dead and rotting wood in woods and forests. Unfortunately, when they start excavating water-damaged and sound wood inside homes and businesses in Centennial, they are no longer helpful and are only making the problem worse.
At EnviroPest, we specialize in carpenter ant treatments in Centennial that stop these wood-destroying ants from causing more damage. When you reach out for help, we'll conduct a thorough inspection of your property to confirm the presence of carpenter ants and then treat as necessary.
For Centennial homeowners who want ongoing protection against carpenter ants as well as other types of ants and common household pests, we recommend signing up for our Colorado's Choice Smart Service.
Mosquito & Tick Control In Centennial, CO
Not only do infected mosquitoes transmit illnesses such as the West Nile virus, but ticks in Colorado are capable of spreading tick-borne diseases such as Rocky Mountain spotted fever. If you're tired of itchy mosquito bites and don't want to worry about ticks on your property, we understand and that's why we offer seasonal mosquito and tick control services in Centennial that include:
Monthly treatments May through September
Larvicide treatments to prevent mosquito reproduction
Don't let mosquitoes and ticks keep you inside when you'd rather be relaxing on your deck, letting your kids play on the lawn, or puttering around on your property, reach out to EnviroPest today!
Smart Rodent Control In Centennial, CO
If you've found mouse droppings or suspect your home has been infested by mice or rats, it is important to take action right away. Otherwise, you run the risk of having your belongings damaged, insulation contaminated, wires chewed on, and other problems. Plus, rodent infestations can jeopardize the health and wellbeing of your family members.
Don't waste time and money buying and setting up mouse traps or trying other DIY rodent control; if you don't address the source of the infestation, it will be a reoccurring issue. Instead, contact EnviroPest.
Our home pest control plan, Colorado's Choice Smart Service, includes year-round protection against 30+ pests including rodents and features 24/7 digital rodent monitoring. When you sign up for this ongoing plan, you can count on our team to protect your home and family from rodents. Learn more about Colorado's Choice Smart Service below.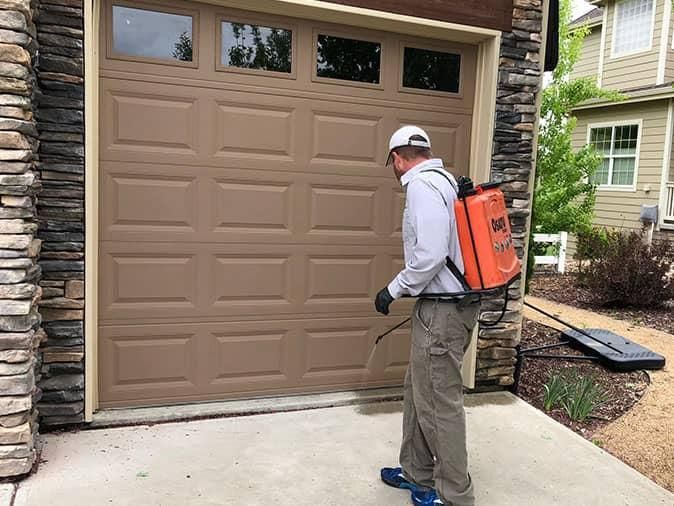 Colorado's Choice Smart Service
Our Colorado's Choice Smart Service is the most comprehensive home pest control plan EnviroPest targets 30+ pests and includes four seasonal visits and 24/7 digital rodent monitoring.
Pests covered under the Colorado's Choice Smart Service includes:
Ants (Carpenter ants, odorous house ants, pavement ants, sugar ants)
Beetles
Centipedes
Earwigs
Mice
Rats
Spiders (House spiders, rock spiders, wolf spiders, black widow spiders)
Wasps (Baldfaced hornets, paper wasps, yellow jackets)
Commercial Pest Control In Centennial, Colorado
At EnviroPest, we are committed to helping Centennial businesses protect people, property, and brand reputation from insect and rodent infestations. Our commercial pest control services in Centennial are customized for each business we serve and feature ongoing pest management and smart pest control with digital rodent monitoring. What's more, we'll provide you with the documentation you need to demonstrate compliance with your governing authorities.
Centennial, CO Bed Bug Removal Services
If you've lost sleep because of bed bugs, contact EnviroPest today for effective bed bug removal in Centennial. Our experienced bed bug exterminators have the tools and know-how to eliminate all stages of bed bugs – that's adult bugs, nymphs, and bed bug eggs! When you reach out to us to schedule a bed bug treatment, here's what you can expect:
A bed bug inspection to confirm the presence of these biting bugs
An explanation of our findings and our recommended bed bug treatment plan
A list of preparations that must be completed prior to treatment day
A targeted, single-day bed bug heat treatment
Without proper bed bug control, these biting pests will not go away. Left untreated, they will grow larger in number and spread to other parts of your home or business. To solve your bed bug problem right the first time, contact EnviroPest at the first sign of bed bugs.