Local Pest Control Specialists Serving Lone Tree, CO Since 1965
At EnviroPest, we have been Colorado's cure for creepy crawly things since 1965 and are ready to help property owners in Lone Tree exterminate ants, box elder bugs, and spiders as well as other nuisance and potentially destructive insects and rodents. Offering both residential and commercial pest control services in Lone Tree, our highly trained and fully licensed pest control specialists are ready to help you solve your pest problem, no matter how tough.
Active Pests In Lone Tree, CO
Home Pest Control Services In Lone Tree, CO
With offices in Denver, Boulder, Colorado Springs, and NoCo, our local pest control company is ready to help homeowners who are tired of fighting pests unsuccessfully on their own. Using the most up-to-date pest control methods and strategies, our team delivers the best home pest control services in Lone Tree. Take a look at Colorado's Choice Smart Service plan below or give us a shout to discuss your home's pest control needs.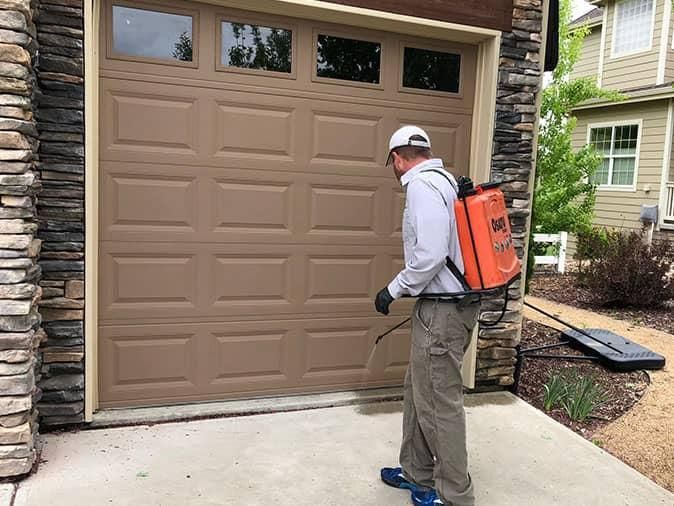 Colorado's Choice Smart Service
Our Colorado's Choice Smart Service is the most comprehensive home pest control plan EnviroPest targets 30+ pests and includes four seasonal visits and 24/7 digital rodent monitoring.
Pests covered under the Colorado's Choice Smart Service includes:
Ants (Carpenter ants, odorous house ants, pavement ants, sugar ants)
Beetles
Centipedes
Earwigs
Mice
Rats
Spiders (House spiders, rock spiders, wolf spiders, black widow spiders)
Wasps (Baldfaced hornets, paper wasps, yellow jackets)
Commercial Pest Control In Lone Tree, CO
Protecting commercial facilities from pests that inflict damage, contaminate products, transmit illness, and tarnish reputations is a job best left to the commercial pest control pros at EnviroPest.
When your company partners with EnviroPest, we will:
Perform a free needs assessment for your facility
Identify existing pest pressures and survey for the presence of protected species
Develop and implement a customized pest management plan
Provide your business with the documentation to demonstrate compliance with governing authorities
Don't let rats, cockroaches, and other pests threaten your company, contact EnviroPest today!
Comprehensive Bed Bug Removal In Lone Tree, Colorado
If you've been losing sleep because you're worried that bed bugs have infested your home, reach out to EnviroPest right away. If you do have bed bugs and do not seek treatment, these biting pests will not only continue to bite, they'll move on to other rooms of your home. In other words, they will not go away unless you make them.
At EnviroPest, we understand the stress and anxiety bed bugs cause property owners, and that's why we offer effective bed bug removal in Lone Tree that eliminates all stages of bed bug development- from eggs to nymphs to adults!
When you schedule a treatment with our team, we will:
Inspect for bed bugs, eggs, and other signs of these biting pests.
Review our findings with you and explain how we'll treat these biting pests, and explain what action you'll need to take before we can perform a bed bug treatment.
Complete a targeted, single-day bed bug heat treatment.
With EnviroPest on the job, you don't have to worry about bed bug bites on your arms, legs, and exposed skin or let these bugs steal your sleep. Simply contact us today to get started!
Lone Tree, CO Rodent Control
Have you discovered mice or rats in your home or business? If the answer is yes, EnviroPest can help. Contact us today for effective rodent control in Lone Tree that not only eliminates existing rodent activity but actively prevents mice and rats from re-infesting your home or business.
For commercial facilities, we offer smart pest control with digital rodent monitoring, which includes the installation of state-of-the-art, multi-purpose technology around your facility that detects rodents and alerts our team so that we can take immediate action. It also includes the use of non-toxic traps to stop mice and rats from taking over.
For Lone Tree homeowners, you'll be happy to know that our Colorado's Choice Smart Service also includes 24/7 digital rodent monitoring! For more information or to request a quote, reach out today!
Testimonials
"Always very professional and informative during each interaction. Also, the mice have not come back and we are pest-free."
Kristine B.
Longmont, CO
EnviroPest received an average rating of

4.6 out of 5

stars from

2439

reviews.
4.6
Read All Reviews
Request Your Free Estimate Today!
Have questions or need help with pest control? Simply complete the form below or give us a call!
EnviroPest Blog & News
Read the latest articles & news