Subterranean Termites & The Damage They Cause
Most termite damage, you'll never see, especially if the damage is caused by subterranean termites. The stealthy nature of termites is one of the reasons these wood-eating insects are so destructive to homes and businesses. They can come up from the ground and feed on a structure for years without leaving any visible sign of their presence. But, eventually, no matter how successful these wood-destroying pests are at avoiding detection, the damage will be unmistakable. So, let's take a look at the kind of damage termites can do, starting with the unseen, and work our way toward the kind of damage you're not likely to miss.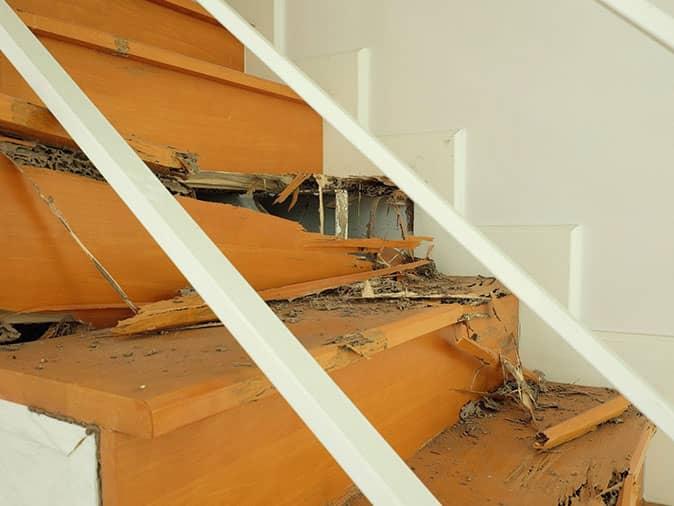 Subterranean termites, which are the most destructive termites in the United States, are insects that require moisture to survive. For this reason, they will spend their lives almost exclusively inside the wood they are consuming, or the ground outside. That is why they are called subterranean. So, when these termites begin to do damage, it will usually be hidden from view, only seen if you're doing a renovation or tearing up a stump in the yard. When this damage is exposed, it looks a lot like long grooves stacked on top of each other. These channels are plentiful, so the wood will have a tattered look. Some describe this damage as having a stacked cardboard look. It looks a little like stacked cardboard, but the channels of open space are much longer.
If you find a stump or piece of dead wood on your property that has termite damage, you're likely to also see the termites as well. This will help you to determine that it is damage done by termites and not another wood-chewing pest. This damage will be mostly on the inside, unless the stump or wood has had excessive moisture on it. Long periods of rain may allow subterranean termites to feed on exposed areas.
When termites feed on wood, it becomes brittle and hollow. If you break off a piece of wood and it feels light, there is a good possibility that it was eaten by termites. If you tap on a support beam and it sounds hollow, this is another good indication of termite damage.
Areas around your home where there is shade and moisture, especially areas that have leaves, sticks, stacked wood, or other organic wood material, can sometimes have external damage. This damage will look like your home was attacked by a hundred carving knives. The damage should make the wood appear brittle, broken, and channeled. This kind of damage is also likely to occur in areas where the wood of a home touches the soil.
Termite damage is often accompanied by mud tubes. These mud tubes will run up foundation walls, and form on structural beams. They may look like veins, packed mud, stalactites, or thin, clumpy lines.
When termite damage is more visible, it will look like something has been shaving the wood off your home. This damage will have a channeled and splintered look to it.
Most of the time you're not going to see the damage directly. What is normally seen is secondary damage. This secondary damage, in its initial stages, looks like water damage. It will cause wallpaper to peel, walls to bulge, floors to sag, and ceilings to sink.
Over time, as support structures become weaker, it causes the structure to bend and warp. This will cause windows and doors to stick or open and close freely. It will make a corner in a room sink down and create a significant slope to the floors. And, if left untreated, the structure will eventually become uninhabitable.
If you're seeing termite damage, or secondary signs of termite damage, get immediate assistance from a pest control company. Termites have the capacity to total a home or business and leave it in a state that is unrepairable.
If termites have not yet damaged your property, you should be aware that there are measures that can be taken that are 100% effective at preventing termite damage from occurring. It is possible to protect your investment and your equity from the destructive effects of termites.
Comprehensive Termite Control For Colorado Homes & Businesses
Providing termite control in Colorado Springs, Denver, Boulder, and throughout Northern Colorado, EnviroPest is the company to call when you are dealing with a termite infestation! For more information, or to schedule termite service, reach out to us today.
View Termite Extermination Services


Related Termite Articles
Testimonials
"Am very happy with your service I have no problems at all since I started using your service."
Kenneth O.
Estes Park, CO
EnviroPest received an average rating of

4.6 out of 5

stars from

2439

reviews.
4.6
Read All Reviews
GETTING STARTED IS AS EASY AS 1-2-3
REQUEST QUOTE & SCHEDULE
EnviroPest Blog & News
Read the latest articles & news