What is a mosquito-borne disease?
The Centers For Disease Control and Prevention (CDC) defines mosquito-borne disease as a disease that is spread by the bite of an infected mosquito.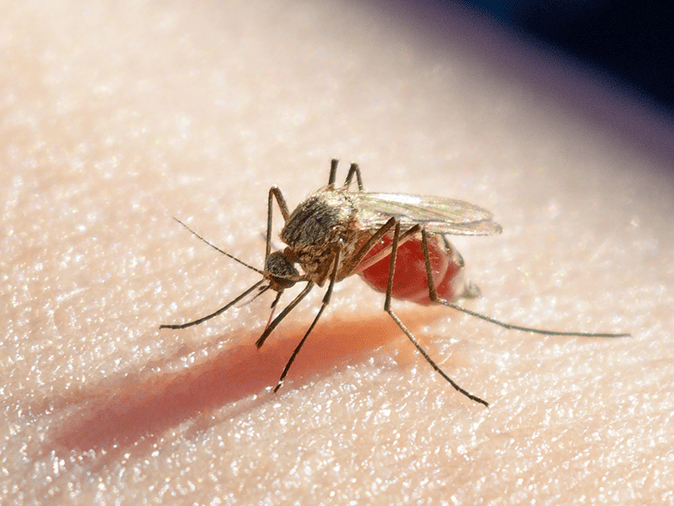 How Coloradoans can protect against mosquito bites
To avoid mosquito bites and the threat of developing a mosquito-borne disease, you should eliminate the conditions that attract these biting pests in the first place. The local Colorado pest control pros at EnviroPest recommend the following mosquito prevention tips:
Eliminate all standing water since that is where female mosquitoes lay their eggs
Repair or replace window screens and screen doors that have holes or rips
Mow your lawn regularly
Make sure your gutters are not clogged and that downspouts direct water away from your foundation
Remove old tires, pick up tarps, and clear away other items that collect rainwater
Types of mosquito-borne diseases in Colorado
In Colorado, the most important mosquito-borne disease is West Nile virus but residents should also be aware of Western equine encephalitis and St. Louis encephalitis.
When do symptoms of mosquito-borne diseases first appear?
West Nile virus – within 2 to 14 days of being bit by an infected mosquito
Western equine encephalitis – within 1- 2 weeks of being bitten by an infected mosquito
St. Louis encephalitis – within 4 to 14 of being bit by an infected mosquito
Signs and symptoms of diseases spread by mosquitoes in Colorado
Symptoms of West Nile virus include fever, headache, muscle and joint pain, stomach issues, and rash. Approximately 80% of people infected with WNV do not show signs or symptoms.
Symptoms of Western equine encephalitis include fever, headache, stiff neck, vomiting, and/or weakness. In some cases, and especially in infants and elderly persons, inflammation of the brain can occur. Most people infected with this illness either experience no symptoms or mild flu-like illness.
Symptoms of St. Louis encephalitis include fever, headache, dizziness, nausea, and generalized weakness. Most people infected by St. Louis encephalitis do not have signs or symptoms.
Can any of these mosquito-borne diseases be deadly?
About 1 out of every 10 people who develop a severe case of West Nile virus will die.
Approximately 5 to 15% of Western equine encephalitis cases are fatal.
The overall case-fatality rate for St. Louis encephalitis is 5 to 15%. Risk of death increases by approximately 20% for persons over the age of 60.
More about the West Nile virus in Colorado
According to the Colorado Department of Public Health & Environment, Colorado has had cases of West Nile virus every year since 2002 and the risk for infection is highest for people who work outside or participate in outdoor activities.
In 2021, Colorado saw the highest numbers of West Nile virus in 18 years with 175 confirmed cases and 11 deaths. Climate change, suburban sprawl, and agricultural irrigation systems are thought to be contributing to the increase in the spread of West Nile virus in Colorado.
Is the Zika virus a concern in Colorado?
Thankfully the mosquitoes that spread Zika are not suited for living in Colorado and so the only threat associated with this mosquito-borne disease comes when traveling to states and countries where the Aedes aegypti mosquitoes occur and where the disease is prevalent.
The best way to protect against Zika and other mosquito-borne illness while traveling is to be aware of the travel health notices issued by the CDC. In addition to Zika, look for warnings about Chikungunya, malaria, and yellow fever to name a few.
Contact EnviroPest to sign up for seasonal mosquito control!
While it's true that you cannot 100% eliminate these flying insects from your property, you can drastically reduce their numbers when you contact EnviroPest for help!
Offering the best mosquito control services in Colorado Springs, Loveland, and throughout our Colorado service area, our team of highly trained and fully licensed pest control specialists will visit your property every month May through September to treat for these pesky and annoying insects. Our targeted mosquito treatments stop mosquitoes from breeding and exterminate adult mosquitoes where they rest.
What's more, when you sign up for this service, we'll take care of any ticks that have shown up on your property!
If you're ready to stop mosquitoes from keeping you indoors while the weather is at its best, don't waste another second; contact EnviroPest today!
Testimonials
"I have been using EnviroPest's services for 3 houses. Every technician is friendly, knowledgeable and personable. It feels like they are personally invested in your home. I always receive top notch service."
Kristine B.
Milliken, CO
EnviroPest received an average rating of

4.6 out of 5

stars from

2439

reviews.
4.6
Read All Reviews
Request Your Free Estimate Today!
Have questions or need help with pest control? Simply complete the form below or give us a call!
EnviroPest Blog & News
Read the latest articles & news