January 13, 2019
Geese-sicles
Geese sleeping on a frozen lake... Aren't they cold?!
I'm sure you've seen a gaggle of geese resting on a frozen body of water and wondered to yourself, how in the world are they not freezing?!
Well, it turns out Canadian geese use frozen water as a rest spot. Because they thrive off of fresh water, geese must search for water that isn't frozen solid. Imagine you were on a road trip from Colorado to California, you'd need to stop for water, too.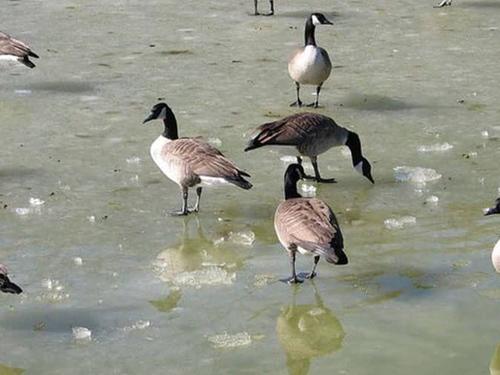 And they actually aren't cold..... Canadian geese are built to stay warm. They have insulated underbellies, and enough feathers, generally between 20,000 and 25,000, to keep their upper body temperature around 104°F (40°C). They also have a unique circulation system in their feet which allows warm blood to flow, preventing them from freezing--- which is why we usually spot them with their feet tucked underneath. Clever little birds, they are!
So next time you see a goose in Colorado sitting on a frozen pond, share your newfound knowledge with a friend!!
Testimonials
"I have been using EnviroPest's services for 3 houses. Every technician is friendly, knowledgeable and personable. It feels like they are personally invested in your home. I always receive top notch service."
Kristine B.
Milliken, CO
EnviroPest received an average rating of

4.6 out of 5

stars from

2439

reviews.
4.6
Read All Reviews
GETTING STARTED IS AS EASY AS 1-2-3
REQUEST FREE ESTIMATE
Pest Solutions For Homes & Businesses
We understand that pest problems can be unsettling and frustrating, but the solution shouldn't be. For over 55 years, we've been helping folks right here in Colorado take care of ants, spiders, mice, mosquitoes, wasps, bed bugs, bats and most other creepy crawly things. We'll get there fast to solve the issue quickly and affordably - Guaranteed.
EnviroPest Blog & News
Read the latest articles & news